The art of storytelling… that's what theater truly is. When you can create believable characters, place them in new worlds and give them situations and circumstances that create conflict, resolution and develop relationships… you're telling a good story. There's so much about live theater that we, as the audience, can enjoy. The lights, the scenery, the costumes and props, and watching our friends and loved ones put themselves into a new scenario, and maybe stretch themselves beyond their normal boundaries, and do it with excellence, that's when theater truly comes alive!
Jesus understood the art of storytelling. So often he chose to teach a life principle by using a "parable" also known as… a STORY. He could help people relate to characters and situations by teaching through this means, and thereby communicate on a deeper level. He was a great story teller!
Legacy Christian Academy (and formerly Xenia Christian) has a rich history of telling great stories, and doing it with excellence. We are pleased to be able to take young men and women and grow them in their talents and abilities (some of whom never knew such abilities even existed within themselves!). We love to provide our school community with the opportunity to experience life through someone else's eyes. We love to tell a great story!
Ransom of Red Chief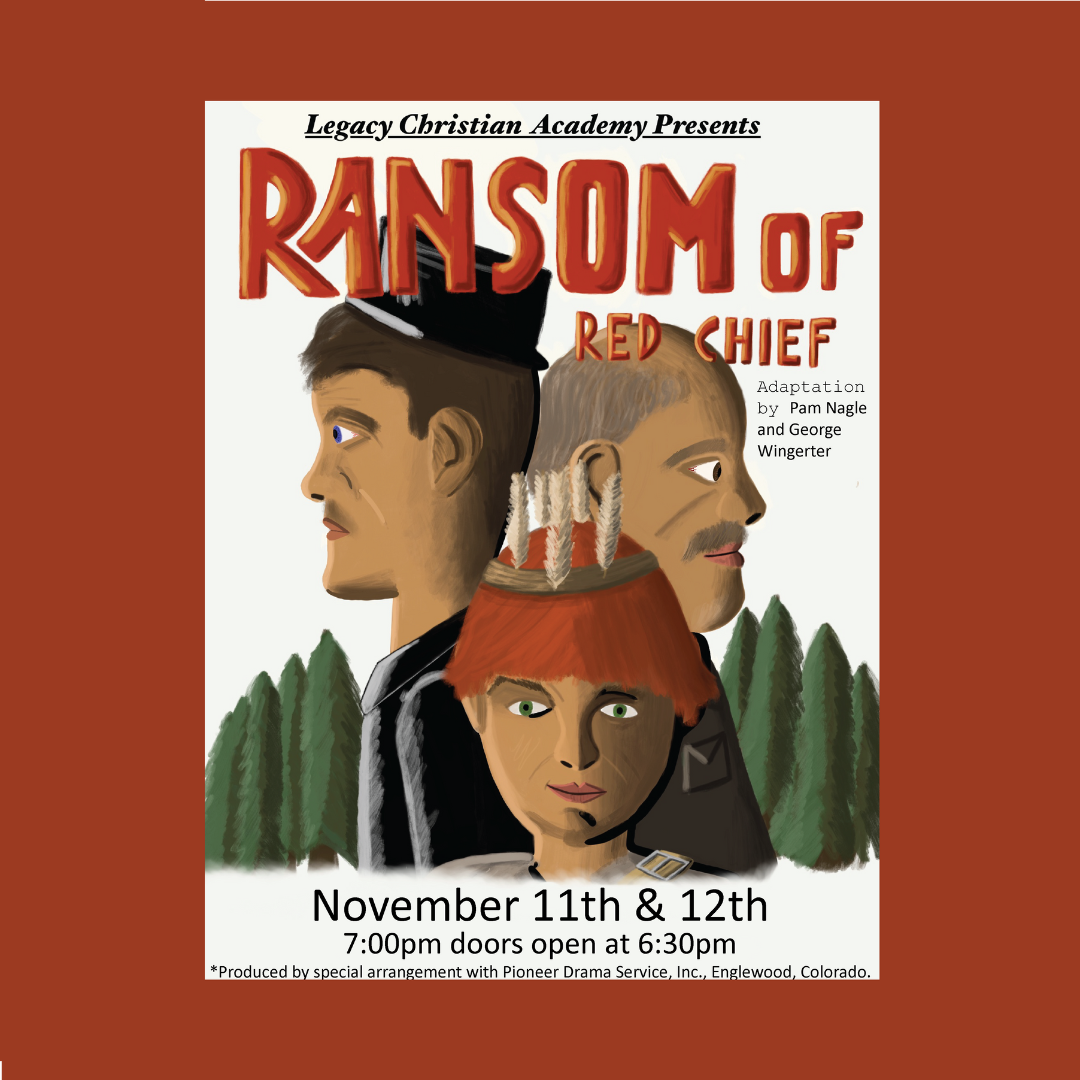 Join us for this year's Fall play, Ransom of Red Chief, on November 11th and 12th! You're going to love the students' rendition of Ransom of Red Chief. Our play is one of many adaptations of the short story, written by O'Henry, who is famous for his vivacious, humorous, ironic, and realistic short stories. The adaptation you'll see performed was written by Pam Nagle and George Wingerter as a musical. Although we've removed the musical parts, you'll hear piano transition music and the characters delivering some rhyming dialogue, adding humor to the narrative. The production will start at 7pm each night. General admission is $7 and student and senior tickets are $5. Tickets can be purchased online here or at the door.
High School Plays and Musicals
2013 Bridge of Blood
Oliver Twist
2014 Laffing Room Only
Beauty and the Beast
2015 Harvey
Fiddler on the Roof
2016 Peter Pan
2017 Wizard of Oz
2018 The King and I
Cheaper by the Dozen
2019 Aladdin!
The Importance of Being Earnest
2020 Bridge of Blood
2021 Annie Jr.
2021 The Curious Savage
2022 Oliver!
Junior High Plays
2010 Anne of Green Gables
2011 You're a Good Man, Charlie Brown (musical)
2012 Shoestring Theatre
2013 Father Knows Best
2014 Ransom of Red Chief
2015 Missionary of Oz
2021 You're A Good Man Charlie Brown!
2022 Foibles & Folly

Ken Kettering
Director and Producer
Director and Producer of over thirty junior high and high school plays and musicals at Legacy Christian Academy. since 2000.

Alex Shaeffer
BA - English Education
Theatre Arts (minor)
Bob Jones University
ashaeffer@legacyknights.org
During his college years, Alex enjoyed his experience in the many facets of theatre to which he was exposed. He took part in many acting projects while landing a large variety of roles in both off-campus and on-campus shows.