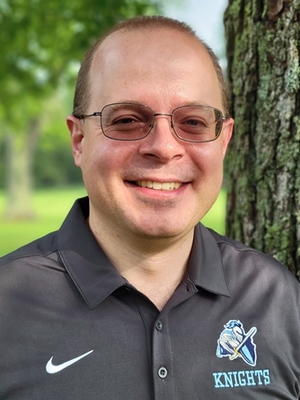 Emery Nickerson
Head of School
Dr. Nickerson has been privileged to learn, teach, and lead in Christian school environments throughout his life where the central importance of a thoroughly Christ-permeated faculty, community, and curriculum was recognized as essential. After being homeschooled through most of his elementary and middle school years, Dr. Nickerson graduated from a Christian high school in South Carolina. A highlight of his high school experience was spending a year abroad in mainland China as an exchange student. Following high school, he earned two degrees at Cedarville University: a Bachelor of Science in biology and a Master of Education with a concentration in educational administration. Dr. Nickerson later earned a PhD in organizational leadership at Columbia International University where his research focused on the academic influence of secondary Christian school athletic coaches.
Professionally, Dr. Nickerson served as a secondary math and science teacher early in his career before shifting to school leadership roles. However, he considers himself a teacher at heart, and it is his prayer that the Holy Spirit uses each student's experience at Legacy to draw closer in their relationship to God. Dr. Nickerson takes joy in partnering with Christian families to educate students in a Christian worldview so that students develop in godly character and wisdom and are prepared to lead change in their world.
The Lord has given Dr. Nickerson and his wife, Allison, two sons: Micah (LCA class of '26) and Judah (LCA class of '27).
Psalm 34:3 "Oh, magnify the Lord with me, and let us exalt his name together!"
Tim Combs
Elementary Principal
Mr. Combs has 24 years of experience in the field of education as a teacher, coach, counselor and administrator. A graduate of Bryan College (B.A. Bible) in Dayton, Tennessee, Mr. Combs also holds a Master of Arts in Teaching from Columbia International University in Columbia, South Carolina. A few of his pastimes include reading, fishing, biking, playing Chess and taking hikes with his dog, Bandit. He and his wife, Becky, have three wonderfully unique and creative children; Josh, Jacob and Rachel.
Mr. Combs has a heart to shepherd people and is a licensed pastor. He enjoys assisting parents and teachers as they partner together to help each student grow in every area of their lives. His earnest desire is to make disciples who in turn go on to make even more disciples of Christ. He is compelled to live by the command in Matthew 28:19 – 20,
"Go therefore and make disciples of all nations, baptizing them in the name of the Father and of the Son and of the Holy Spirit, teaching them to observe all that I have commanded you."
Michelle Miller
Director of Operations
Mrs. Michelle Miller has over 25 years of experience as an administrator in Christian education, both at the K-12 level and in higher education. She received her undergraduate degree from Cedarville University and her Master of Library and Information Science degree from Kent State University. It should come as no surprise that she enjoys a good book particularly when paired with an extra dry cappuccino. Mrs. Miller and her husband, Steve, have been blessed with two daughters who graduated from Xenia Christian / Legacy Christian Academy. One is at home with Jesus; and the other is a sophomore Honors student playing collegiate golf at Milligan University.
Her penchant for details and desire for excellence serve her well in her current role at LCA. She is a seasoned ladies Bible teacher and lives out her faith with confidence knowing that "the eyes of the Lord move to and fro throughout the earth that He may strongly support those whose heart is completely His." (II Chronicles 16:9)
Bev Moser
Athletic Director/ Dean of Students
A graduate of Baptist Bible College (now Summit University) in Clarks Summit, PA with a BS degree in Physical Education, Mrs. Moser has over 15 years of experience as a teacher, coach, and athletic director. She enjoys reading (especially in a chair on the beach), watching any athletic event, and spending time with her family. She and her husband, Tim, have 2 children, one who graduated from LCA and the other is still a student in our school.
Mrs. Moser has a love of athletics and values the platform that athletics has in shaping young men and women to be fearless followers of Christ. High school athletics teaches young people to be disciplined, to work well with others, and to learn to act for the good of the team. It serves as a huge tool in preparing students for the next level in their lives.
The Lord is my light and my salvation; whom shall I fear?
The Lord is the stronghold of my life; of whom shall I be afraid? Psalm 27:1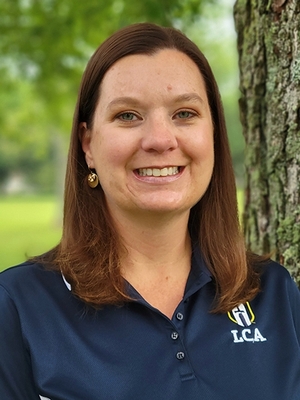 Stephanie Hager
Director of Admissions
Mrs. Hager graduated from the University of Anchorage, Alaska with a B.A. in English and an emphasis in Literature. She has previous work experience in the accounting field with accounts payable, receivables, and payroll. A homeschooling mom for nine years, she is well-acquainted with Christian education and enjoys instilling a love of learning in others.
True to her English roots, she enjoys reading, writing and the spoken word. She also enjoys sports and theatre, particularly when her children are involved. Mrs. Hager and her husband, Aaron, have three wonderful children; all students at LCA.
Colossians 2:6-7 "So then, just as you received Christ Jesus as Lord, continue to live your lives in him, rooted and built up in him, strengthened in the faith as you were taught, and overflowing with thankfulness."
Brian Ray
Director of Development
Brian has a B.A. in Business Administration from Cedarville University (Marketing emphasis). His eclectic work experience includes real estate sales, higher ed admissions, and fundraising. His entrepreneurial bent has been exhibited as a restaurant owner and house flipper. He developed appreciation for LCA while chaperoning missions trips to Costa Rica.
He and his wife, Shari, have four grown children and five young grandchildren. Brian serves on the board of the Cedarville Senior Center. He enjoys playing golf, fishing, making pizza for friends, and traveling. Brian enjoys connecting with people over coffee.