Elementary Art
Art in the elementary years is critical in developing a well-rounded student. Art helps to inspire the imagination. Many of the motions involved in art help to improve and fine-tune motor skills. It aids students by strengthening problem solving and critical-thinking skills. Finally, it helps students to grow in self-confidence.
Art, properly demonstrated, allows children to learn new things without the fear of failure or perfection.
We see God's sense of artistry all throughout creation… the colors, the details, the scope of beauty that He put into our world. Most children enjoy being creative. At LCA we think learning should be fun and exciting and we want to allow children to explore their own God-given creativity in a safe, hands-on, interactive environment.
Throughout the year in Elementary Art we cover the elements of art within various projects. We use many different types of media – from pencil to paint, oil pastels to clay, to explore lines, colors, shape, form, texture, and space.
Secondary Art
Under the direction of Mrs. Olivia MacDougall, students in grades 7-12 develop their artistic skills through a comprehensive curriculum. High school offerings include Art I, II, III & IV. Student projects may include the use of:
ink
acrylic and oil paints
pastels and charcoal
3-dimensional design
mixed media
Selected projects are displayed at various times in our school's hallways as well as during some of our music concerts. Fine arts students have the opportunity to compete in annual spring art competitions.
Yearbook
The high school yearbook staff devotes one academic period per day to prepare a memorable and entertaining visual record of the school year. Not only does this create a lasting memory for years to come, it also gives students experience and training in the areas of design, layout, composition, writing and business.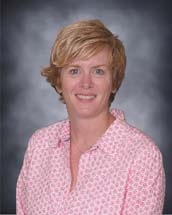 Terra Stanley
Elementary Art
B.S. - Design
Ohio State University
20+ years design experience
in a design firm and consulting.