EdChoice Update
February 03, 2020
Ohio EdChoice – What Are My Options at LCA?


Think back to your last roller coaster ride. Last summer, I rode a few roller coasters at my family's favorite amusement park. For me, it's usually a mixture of thrill and terror. Navigating Ohio EdChoice has felt a lot like a roller coaster ride recently.
At our parent meetings in December, we presented some opportunities created by legislation that was passed last summer in Ohio. Here is a recap:
EdChoice Expansion scholarships (based on a family's income) are now available for students entering grades K-12.
The designated list of eligible schools for the EdChoice Traditional scholarships (based on where you live) expanded to include schools from almost all of the districts represented at LCA.
Current LCA students entering grades 9-12 next year are eligible to apply for a Traditional scholarship if they would be assigned to a designated school.
The window to apply for EdChoice Expansion Scholarships opened Feburary 1 and closes April 15. This week, the Ohio General Assembly, through several days of meetings and last minute decisions, voted to delay the opening of that window for students seeking the EdChoice Traditional scholarship.
Our desire is to create a seamless enrollment/re-enrollment experience for our current families and our prospective families. Although we will continue to receive information in the coming days, this is what we know right now:
EdChoice Expansion eligible families may apply for/renew a scholarship beginning February 1. The Expansion scholarship is now available for students entering grades K-12. The chart below shows the income guidelines for EdChoice Expansion eligibility. This scholarship is available to any family, including current LCA students.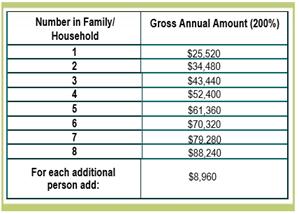 EdChoice Traditional eligible families must wait until April 1 to apply. This includes renewal scholarships. For newly eligible families, this will be a first-come, first-served opportunity (with limited funds), and includes the schools that are on the 2020-2021 designated list: List of Schools
Families who are renewing an EdChoice scholarship should receive information from the Ohio Dept. of Education in the mail.
If your student is eligible for both the Traditional and Expansion scholarship, you may apply for the Expansion scholarship now.
What is My Next Step?
Current families must re-enroll by February 28, 2020 in order to qualify for the early re-enrollment fee. You may not apply for either EdChoice scholarship until you are re-enrolled at LCA. If you are seeking the EdChoice Traditional scholarship, we will have the necessary forms available to you long before April 1 so that they can be returned to the office in ample time for LCA to submit your application on April 1 (packets, digital and print, are being assembled now). If you are eligible for the Expansion scholarship, you may fill out and return the request form as soon as you are re-enrolled (forms will be in the same packets mentioned above).
Thank you for your patience through this process. We will continue to do our best to keep you updated on any changes that affect you and your family. Please do not hesitate to reach out to me anytime via email (hbright@legacyknights.org) or during the week by phone at 937-352-1614.
For some reason, I haven't sworn off roller coasters yet; and this roller coaster with EdChoice will most likely continue to take us through ups and downs. As we navigate this process, and make prayerful decisions, I am reminded of this truth from Proverbs 19:21
"Many are the plans in the mind of man, but it is the purpose of the Lord that will stand."