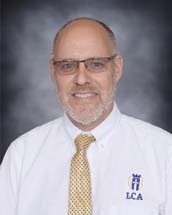 Timothy Combs
Elementary Principal
Phone: 937-352-1640
Degrees
Post-graduate

Columbia International University
Why I like working at LCA
It is exciting to work with Christian educators that have the desire to disciple students in a school setting. Each day is a new opportunity to partner with teachers and parents to shape and mold children to become more aware of who Jesus is, what He has done for them and what He is in the process of doing through them to impact the world for His kingdom.
Favorite Verse: Galatians 2:20
I have been crucified with Christ; it is no longer I who live, but Christ lives in me; and the life which I now live in the flesh I live by faith in the Son of God, who loved me and gave Himself for me.